Portfolio > Villa Mauritius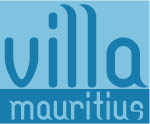 company hIstory
Villa Mauritius are a new company that are in the corporate hospitality sector. The company has several Villa's in the heart of the Paradise Island of Mauritius.
client brief
Villa Mauritius wanted a website that would allow them to promote their Villa's to the UK Public.
VM wanted us to create a website that was aesthetically well designed, easy to navigate and one that allowed customers to book online.
In addition, the company was looking for a complete branding solution which also included offline print.
In addition, in order for the website to keep visitors interested in upcoming events, we adopted a newsletter system where the company can carry out e-marketing at a click of a button.
the website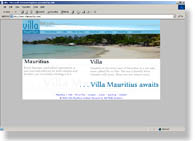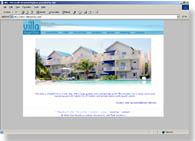 print stationary
Below is a sample of print stationary that we designed for Villa Mauritius. The client wanted a very subtle look that also gave the look of quality & professionalism.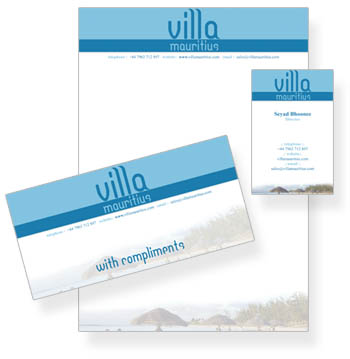 website features
Emall Newsletter subscription facility
Aesthetically Designed
Easy to navigate
Users can contact the company through an online form
Designed to accommodate for upgrades and e-commerce facilities.
Hosted on Windows 2003 state of the art servers
technology used
HTML
DHTML
CSS
Active Server Pages
testimonial
"...We wanted to create a website that didn't take forever to load but still which was nice to look at.
As a new business we had to be very careful on where we spent our budget ...I can safely say that the website has been a fantastic investment and we are very happy...on the day the website was launched we had 2 bookings so I was delighted.."
Mr. Seyad. Bhoonee - Director
future plans
The company has commissioned Net-TECH Solutions to carry out all it's marketing and promotional work including leaflets, flyers, posters and brochures.
In addition we are also working on the company's e-Marketing strategy in order to help the company achieve it's online objectives.
Visit website: www.villamauritius.com